2014 PodCamp Toronto is a free community driven UnConference for new media enthusiasts in Toronto.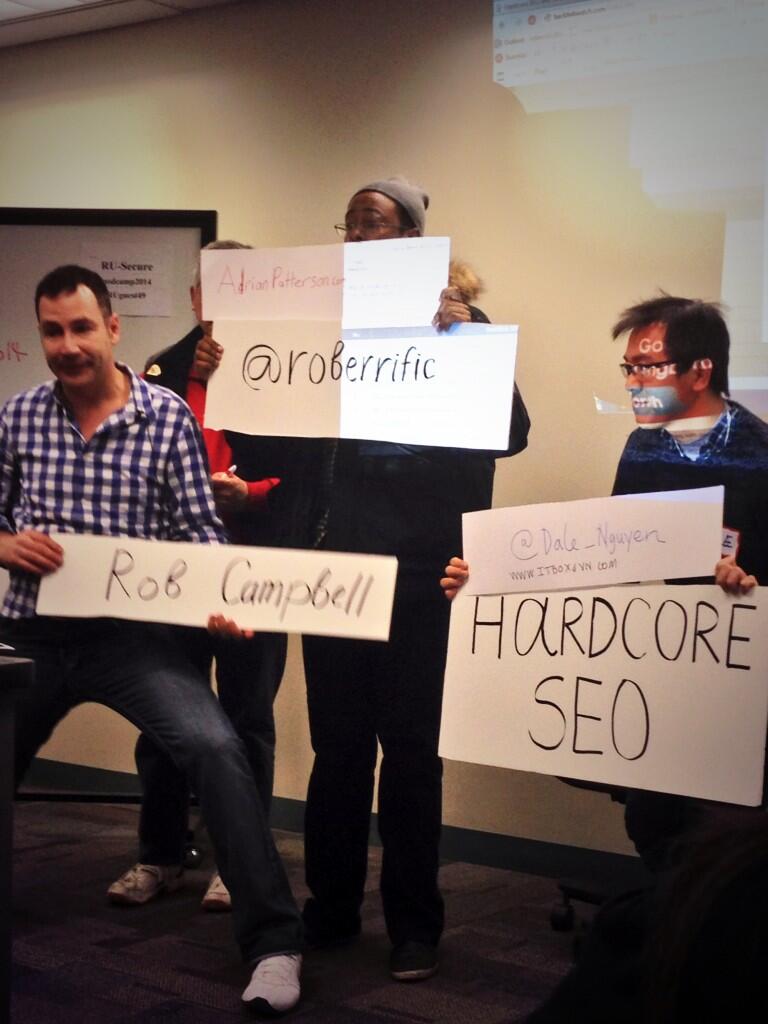 Saturday 22 Feb 2014,  at 10 am, I, Rob Campbell, Roberrific the SMOJoe was honoured to speak to a huge crowd of tech students, marketers and agency dudes and other new media professionals about search engine optimization at 2014 Podcamp Toronto gathering hosted at the Ted Rogers bldg on the Ryerson Campus at Church and Gould St in Toronto.
I was doing something that I now call the Rob Campbell SEO show – insert future link here.
The Feb 22nd edition of my stock performance was something of a departure from my usual general ramblings no format presentation in that I with the audience's help, actually accomplished something. We achieved an SEO triumph or sorts, a unique deliverable as a direct result of the Podcamp session.
So just to be clear I will say again, this was a live experiment to see if I could use the collective caring and sharing of people in the audience to push a podcamp session page to #1 in Google for hard core SEO,
and the results may surprise you, but I never doubted it.
Why do I do this?  I would like to say its because successful professionals should share their knowledge and skills with younger less experienced enthusiasts…   Uhuh or I could say that I do it to meet new business prospects and potential new clients; I get human attention and inspire so many other people's thoughts and ideas in my wonder-filled presentations .  But the truth is I do for purely selfish reasons. . I get bragging rights and the consolation that leave behind something to say I was here, I did this, and this is my bloody hand print on the cave wall.
During his 2014 Podcamp Toronto session Smojoe taught some Hardcore SEO!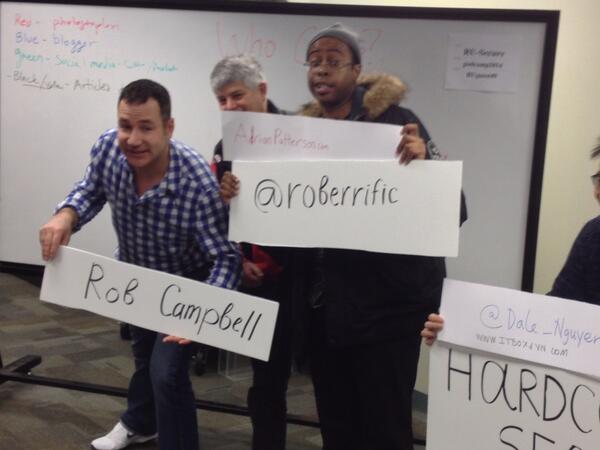 If I passed on anything in this session it was the fundamental concept that good content marketers write stories on the periphery of the keyword target / url combination they most want to promote.
Like a boat tacks up a windy channel so to must the content market navigate client web pages toward the top of Google.
When I discussed some of the tactics I used to promote replacement windows connection with Landmark Quality home website, and my idea to write informative articles about bird friendly windows, it inspired some of funny tweets like #doitforthebirds
The high point of the lab was of course the part where we posed for pictures and smiled for the cameras – i wrangled actors and photographers and bloggers and micro bloggers of all shades and colours to the cause by putting myself out there. I wrangled volunteers to join me on stage holding up foam signs with my information and the 'meme' of 'Hardcore SEO' – this was an ideological marriage of two concepts in the church of Google , and I was the high priest officiating the ceremony but I needed the congregation to validate the connection.
There is a method to the madness of Content  Marketing for SEO
Good content marketers follow a ritual program that includes a sensible beginning, middle and end promotion rituals.  Although this is easier said than done, I always try to set up targets by making and publishing rich media resources before I attempt long copy articles and blogs on various related subjects.  The program comes into play more obviously when doing an event – for –  seo .
Rob Campbell's SEO Slingshot
Before I write long copy posts, I plant lots of small bits of relevance all over the web that I can reference and make more important over time simply by including links to their presence in these long copy posts. A fine example would be this lovely discussion forum entry about Hardcore SEO on Toronto – Forums and another celebrating the culmination of the event here.
During the session, as people came in the room, I asked them if they were photographers, bloggers, or social media mavens.  Depending on their answers I gave them all coloured bits of tissue paper denoting their passion and influence platforms.
Hardcore SEO at 2014 Podcamp Toronto was a paint by numbers recreation of the Rob Campbell SEO show, complete with cliches and awkward moments.
The recipe for page one relevance is to make media on top of media all over the web – give the target URL the links and attention of dozens of surrounding sites of all stripes.  Piggyback images and text and rich media videos and on top of one another and make a layer cake with the pictures and text. To wit, I made folks with red tissue paper take pictures of myself and volunteers you see in the images on this post. Then I made bloggers with blue tissue paper write about the action and use the images and text and then i made the green tissue folks tweet and add the blog posts to Facebook and other public forums.
As an example this post about hardcore SEO appeared on 90 Seconds blog and is what you would call shallow content , but maybe over time the author will fill out the page with insights into the experience of watching the best presentation he has ever seen or tasted – he won a jar of Campbell's Honey for his trouble on the day.
Here is another honey winner, Rob Campbell at Podcamp 2014 – Hardcore SEO
Here is a trustworthy FREE third party rank checker that confirms #1 ranking for Hardcore SEO