Precise Parklink Parking Predators mislead Property Managers and the Public in Regent Park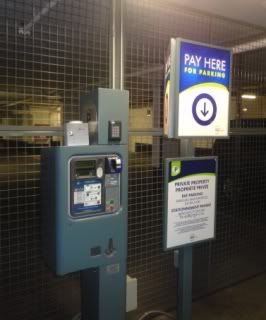 Anyone who knows me, knows that I'm not a complainer by nature, but I will not hesitate to stand up and point out injustice.  Such is the case here in my new domicile, a brand new freshly erected glass and concrete condominium building at Dundas St. E. and Parliament. In this building, unfortunately for us, the underground parking garage is ruled by trolls!
That's right, trolls live amongst us, and they do exact a heavy toll from unsuspecting visitors to our homes. This is their business logo.
Here's the skinny: if you drive a car when you come to visit me, then you'll definitely want to park it somewhere, and left to your own volition you'll probably use the blue circle P parking garage under the condo building.  Driving down the ramp, you will enter the realm of the trolls. Be sure and pay the $5 parking fees down here, as being caught on this subterranean asphalt with an unvalidated ticket will cost you over $69 dollars!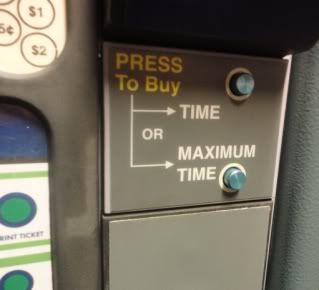 Oh sure, if you comply and accept the extortion and pay the fine right away,  its just thirty seven fifty or something outrageous … did I mention that $5 will buy twelve hours time? And I should also mention the meter is a two button system – one button is titled 'Time' while the other is labelled 'Max Time'.  And finally let me elucidate here how the time increments are twelve hours long and begin at 6 am/pm. These are parts of a diabolical scheme designed to put drivers in default.
I postulate that this predator parking company deliberately makes it difficult to comply with their rules by not properly explaining their meters in POP instructions, and they set odd, unhandy expiration times to deliberately put parked patrons in penalty for maximum profits.   And furthermore, they hurt the people who can least afford it here in this low income neighbourhood.  Daniels Corp, by extension, is complicit in their fraud.
On Tuesday, September 04, 2012  at 1:48pm,  I wrote the following email  to Precise Park Link, cc'ing Daniels Corp
Hello from a frustrated tenant here at 225 Sackville St.,

The Precise Park Link  parking company seems to have a license to kill  in the underground parking garage of Paintbox Condos (and probably other Daniels locations ) ?

Precise Park Link is predatory in their business practice which is creating a storm of contempt in this location, 563 Dundas St E. / 225 Sackville St.   Because its an outrage!

1. As failure to have a valid $5 permit yields a $69 ticket, their punitive fee structure seems unusually cruel from the beginning.

2. The day long permits expire at 6pm and night long at 6am. As you can imagine most people are still asleep at 6am, and of course they receive a $69 tickets by 7am without fail. The morning hours are prime hunting time for Precise Link Parking authorities – this is when the company makes the most money.

3. There is basically no customer service – when you do finally get through they simple tell you that 'even if you are 1 minute overdue you cannot get a refund' or sorry I cannot help you "I really do apologize"

Daniels, please contract the services of another more professional
parking authority.

I look forward to your reply to this email

with respect,
RobC
And forty three days later I received this reply,
On 10/16/2012 1:06 PM, Jeff Zanardo wrote:
Hello Mr. Campbell,

I would like to provide you information that may eliminate some of your frustrations.  The invoice charge of $69.67 is the standard charge for all Precise operated lots.  If you are looking for a point of reference our competitors charge $72 per invoice.  Please note that the information on the ticket provides a "pay by date" if the invoice is paid within the specified time indicated on the ticket the cost is only $39.00

The invoice amount notwithstanding, the meters located at 563 Dundas allow a parker to buy multiple time increments, so if you are purchasing a ticket to display on your dash in the evening and would like the ticket to carry through into the next day please press the "max time" button a second time.  Once the button is pressed the display will show that the ticket is now valid until 6pm the following day.  The ten dollars in parking would be cheaper then receiving an invoice from our company.

Another option for parking would be to consider acquiring a monthly parking pass that will be displayed from your rearview mirror.

If you would like I can have our Area Manager contact you or meet you on site to provide a walk through on meter use, or he can discuss with you a monthly pass option.

If there is a time you are available please let me know and we can organize something for you.

Should you have any questions or would like to discuss this matter with me directly please contact at any time,

Have a wonderful day,

Jeff
Did his reply seem smug to you? Did he ignore my claims that his company's business practice is predatory ?
This was my response to his reply which I sent away last night,
Hello Jeff Zanardo, Operations Manager at Precise ParkLink,

Thanks for your timely reply, and for all that helpful information. It
comes as a bit of surprise, forty five days after I emailed you…
But I suppose that's on par with your phone service, as anyone who has
ever tried calling Precise ParkLink knows its just about impossible to
get anyone to respond live at 416 398 4052, during business hours, such
as they are at your enterprise.

Jeff, your email response reveals a lot about you personally, and
offers even more insight into Precise ParkLink's smug, albeit morally
bankrupt business model. Is this the job what you went to school for?
I'm going to be tough in my reply because your company profits by
causing hard working people a lot of unnecessary pain.

Precise ParkLink are worse than parasites, they're predators.

This is what I read in your response re: ticket price
1) PrecisePL's outrageous fine amounts are a few dollars cheaper than a
competitor, so that makes it okay.
2) if your victims cooperate, and quick, they get a break.

The meters located in P1 level garage of 563 Dundas St E do NOT offer
any hints to consumers that if they press the 'Max Time' button twice
they will be allowed to purchase a second maximum time allotment.
Indeed the unit description 'max time' would tend to imply that its all
anyone can buy in one period.

So again, I charge Precise ParkLink with deliberately misleading the
people of this low income community for maximum profit. Sure there's a
solution, but nobody can find it, and it behooves your organization to
keep it that way; the existing unhandy 6am expiration time is a big
money maker.

Its obvious now that your organization deliberately sets low hourly
rates followed by unreasonably high fines in a premeditated, predatory
business practice of attracting ticket violations rather than providing
easy access, secure underground parking.

Its equally obvious that your meters do not have the proper instructions
printed on them, and so I decree that your enterprise is preying on the
honest people at this facility, and the tenants and friends of 225
Sackville St, and other Daniels' bldgs in the Regent Park area.

Hoping for change,
Rob Campbell
@roberrific on Twitter
And this was Jeff Zanardo's immediate response,
Hello Mr. Campbell,

My email was to provide you additional information. I am happy to discuss any matter with you at greater length. I apologize for your perception of smugness in my reply. Contrary to your view that we are predators, our enforcement department are performing there jobs, a job that involves issuing tickets to vehicles that do not display a valid slip. I am happy to provide additional information on purchasing multiple days through the meter. Also, the option of purchasing a monthly pass may better suit your needs. Your email mentions the low rates that this particular facility, the reason for the low rates is to allow people to purchase greater lengths of time, even multiple days if needed. The buy "time" button allows a patron to press the button until they have reached a time (shown on the digital display) when they believe they will be leaving the complex.

I apologize for the frustration you have experienced in contacting our head office. I will speak to our staff that responds to incoming calls during business hours. My previous email contained within it various means of contacting me.

Please feel free to do so at any time.

I hope you have a wonderful evening, and I look forward to servicing your concerns.

Jeff
Sent from my BlackBerry device on the Rogers Wireless Network

Jeff Zanardo
Precise Parklink Inc.
And I didn't bother replying to his reply to my reply to his response to my original email, but rather I published this blog post instead, because now I'm looking for change and I know he cannot help me.  It seems overly cruel to torment him any further because  I know change cannot come through him. it will come, but it will require the governing board of tenants here in this condo bldg to change parking companies. We'll vote with our feet.  And before you say that they're all the same, please know I'll disagree; there must be a more charitable competitor with better equipment, customer service and more humane policies? If not then someone should start such a company.  I'm of the strange opinion that no business organization should be allowed to operate like trolls today, at the dawn of the 21st century, when we can so easily and effectively expose them as predators.
What do you think?