Smojoe SEO Show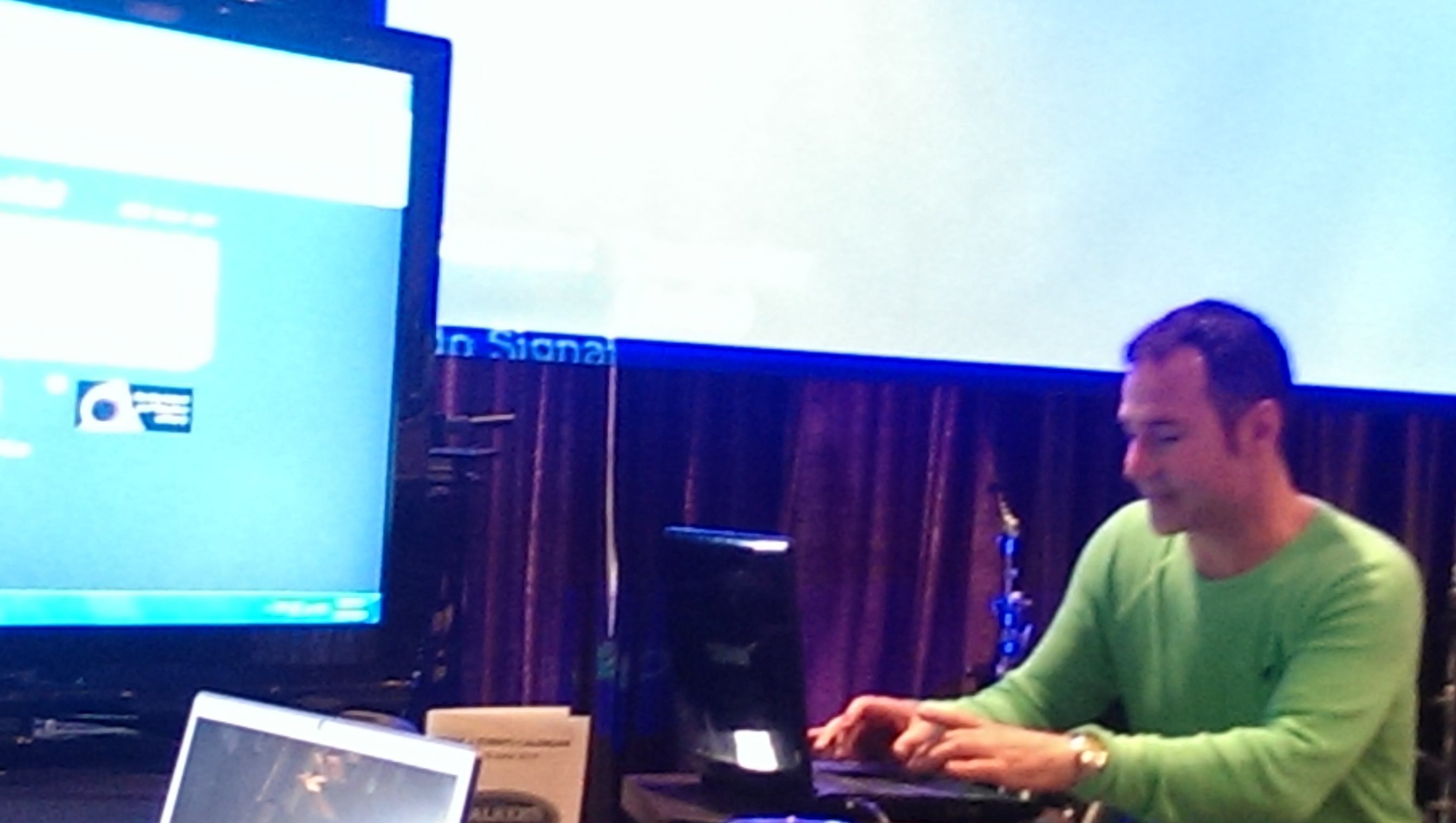 There's no boring power point for the SMOJoe SEO Show; its an active workshop hosted by me directing two laptops (on two projectors) doing live Google searches while telling jokes! Hah
I think you'll find it very inspirational.  The hour long exhibition evolved from an IABC speech I gave years ago on how to use social media to drive SEO.  Crowd power is key.  So I got to thinking, why not use the audience?
After I performed the SEO show at 2014 Podcamp Toronto, and harnessed enough social media power in the room to put the session page #1 on Google for 'Hardcore SEO', people began asking for more, and I got to thinking that maybe this show has more to give…
That's when I conceived doing a 'live SEO Show'.  With everyone watching, I go around the room asking for volunteers to shout out their web URLs for testing.  And then we (pick one to) do SEO audits, keyword landscaping and storytelling on their behalf.  While the actual search engine rankings improvements manifest themselves weeks later, the necessary link building happens right there in the room.
At this unique event, the crowd does most of the work needed to make top ranked SEO results, and they're rewarded in turn with prizes from 3rd party sponsors.
The key to success is three fold; the audience has to be socially media savvy, willing to share, and there must be at least one or two live bloggers in the room who are willing to post links to sponsors and other event attendees websites on their blogs. All the other elements are easy to source, but the 3rd party bloggers are key and so often I will invite them and buy them drinks to

Breakdown: The evening has two cycles. 1) Rob explains SEO in 2014, and how its possible to improve Google rankings for web pages by writing themes and topics in a particular way, a social way.  Rob shows interesting case studies that evidence the power of 'theme weaving'.
2) Then we all do SEO together. We put our newly acquired content marketing knowledge to work helping a select volunteer who stands and bravely offers up their website, and hopefully their eCommerce enterprise, for scrutiny and SEO optimization at the mercy of the assembly.  If there are two or more volunteers, as there often are, then we have fun deciding which webmaster to help.
Sponsors and Prizes
Offering up your website for scrutiny, and volunteering to be the subject of the evening's story, will usually earn the participant a prize of some kind, even if they are not chosen to be the test subject. From that point forward volunteering to do anything from 1) taking pictures 2) live blogging about the event and 3) tweeting and updating Facebook on the event happenings will earn prizes and tickets to win the grand prize at the end of the night. The big winner is the brave website owner whose property is now more important because of all the positive attention it received during the show.

The Set Up
When participants first come into the room they see two digital projectors with two screens set up side by each. One says 'SMOJoe' and the other says 'SEO SHOW'.  This is the start of a terrific learning exercise.  After I explain, 1) what Google wants 2) how Google works and 3) how to affect positive change for web properties, we set about doing actual SEO link building right there in the room.
First we discuss What Google Wants – Themes and Topics
Without getting into the morality or philosophy of what appears to be a new world order, Rob touches on the vast oceanic premise of Google sorting everything out, as sees it (Google glasses) into an encyclopedic 'internet of things' as categorized by themes and topics and now Schema.org?
Then we detail how Google does search math in 2014
Rob discusses the rise of negative SEO, and the crises of link building using old fashioned methods, ie list building, blog networks and link farms and now.. guest blogging? What domains remain for the link builder?
On-Page SEO
What are the most important things a webmaster can do on page to convince Google they're legit and progressive? What can they do on every page to make it more deserving of top ten rankings for popular keywords?
Off Page Theme Weaving
Doing content marketing for SEO link-building is where art meets science. How does a small company make its website more relevant than larger competitors' sites? The CMO conceives and executes brilliant PR stories, and stunts which become fodder for SEO complaint media, and by that I mean articles and blogs and discussion forum posts that have links to the pages and are shared by friends and strangers in busy social media channels.
Live SEO Storytelling in the room – Making a Link Love Marketplace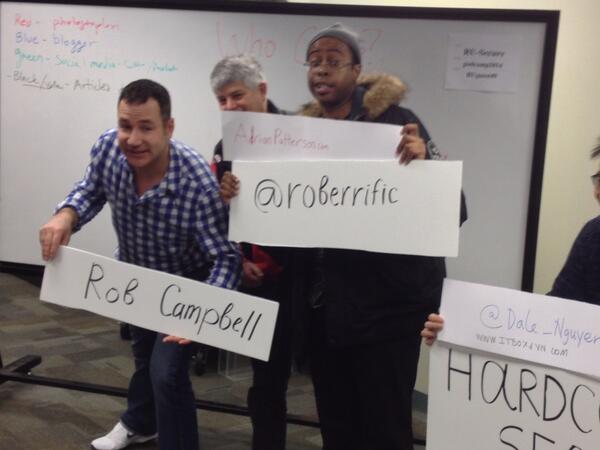 The best part of the SMOJoe SEO Show is when volunteers show us their websites and pose for photos at the front of the room.   Together we use free diagnostic tools and Google keyword planner to decide which page to promote and what words to use promoting it.  We scour the meta text and all page elements asking, 'what search theme and search topics does this site deserve to be found on pg1 of Google for?'
Then we discuss stories.
We ask the featured webmaster to pose for photos then we write about him or her and the bravery required to come forward and be part of the spectacle. We write out their eCommerce quest and their struggle to make a buck in the hyper competitive world of online sales, a world driven by heroes.
One of the two laptops accommodates a volunteer live blogging the event. The operator retrieves photos and pastes some some prepared content into the blog's body – the where and when parts have been prepared in advance. The blogger gets busy writing out fresh bits of story beside the original photos , the WHO is added, and WHAT and WHY?
On the other laptop, Rob demonstrates how he uses Flickr and Instagram in his SEO theme weaving rituals.
While one blog is being built collectively on WordPress, with audience members literally shouting out sentences and ideas for the copy, photographers are busy sharing pics with links to the target page, and those images will be incorporated into the blog.
During the hour long SMOJoe SEO Show, everyone in the audience has the chance to participate and win prizes as we work collectively, on behalf of sponsors, to help one or more audience members' website become more findable in Google. The Smojoe SEO Show makes learning and doing SEO way more fun.